---
West Is West by Eugene Rhodes
Published in 1917 by Grosset & Dunlap, this is one of the vintage books written by the renown western author Eugene Manlove Rhodes.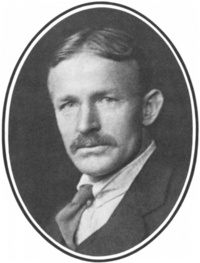 West is West is a collection of 8 short stories that are loosely tied together—they all take place on roughly the same range land, with many of the same characters. The stories are as follows:
Prologue
A range war is at a momentary standoff between Ben Morgan and Clay Mundy, when MacGregor, a man on the run from the law, stops in to hide at Clay Mundy's spread. He stays on as a hand and starts finding out that fishy things are happening between enemies Clay Mundy and Ben Morgan's daughterr–and he feels it necessary to intervene.
Once Upon A Time
Emil James, the main character of this story, takes a young tenderfoot (John Sayles) on a journey across the Malibu Flat and through the mountains, to reach the N 8 ranch. Emil tells the history of the land—the stories of the conquistadors to the young man–meanwhile several key bits of information for later stories in the book are exposed.
The Spring Drive
John Sayles is now a full-fledged cowboy on the N 8 spread. One day an old family friend and ex-cowboy drops by to take John back east so he will stop "wasting" his life on the range when he could be getting rich. What follows are some lively and interesting debates between the two about the character, habits, work ethic, and prospects of the range man vs. the "business" man— which lead to an interesting discovery of his friend's past, which in turn, is put to the test in a life-or-death test of moral courage.
Meanwhile a cowboy's humorous and wise ways of dealing with unpractical and slightly corrupted government officials like tax collectors, inspectors and such is portrayed as Steve comes head to head with various officials and try to make their points about freedom and reasonableness.
The Fool's Heart
This story's name fits perfectly. A man's character is put to the test when a perfect opportunity arises for him to "bump off" a man and take his fortune with no consequences or chance of discovery. Cleverly woven, this tale is one of the best in the book and has a predictable, yet masterful ending.
I love stories that end with a short, meaningful last sentence.
Crooknose
This is a tale of Crooknose, an unlikely looking character, who, under his rough exterior is a man of honor who fights injustice, defends the innocent and sets wrongs right wherever he comes across them. An observant man with a hatred of those who take advantage of folks, he ends up in quite a few scrapes in all manner of places– from a gambling hall to a brothel.
Dick
A crooked scheme by the main stockholders of a mine is taking place in the town where Dick Rainboldt lives. This story introduces the bad men of the scheme, Dick Rainboldt, and the girl he loves; Judith Elliot. It is practically a "part one" of the next story: The Bells of San Clemens.
The Bells Of San Clemens
This story tells of the big crooked mine scheme and how Dick Rainboldt started out to solve the mystery and get proof against the thieves. Using cleverness he tackles the job in a difficult and surprising way…
Over On The Malibu
A railroad is coming through, and with it come the main characters in a finale as the loose ends get wrapped up, and we bid farewell to the folks in the lovely valley and mountains.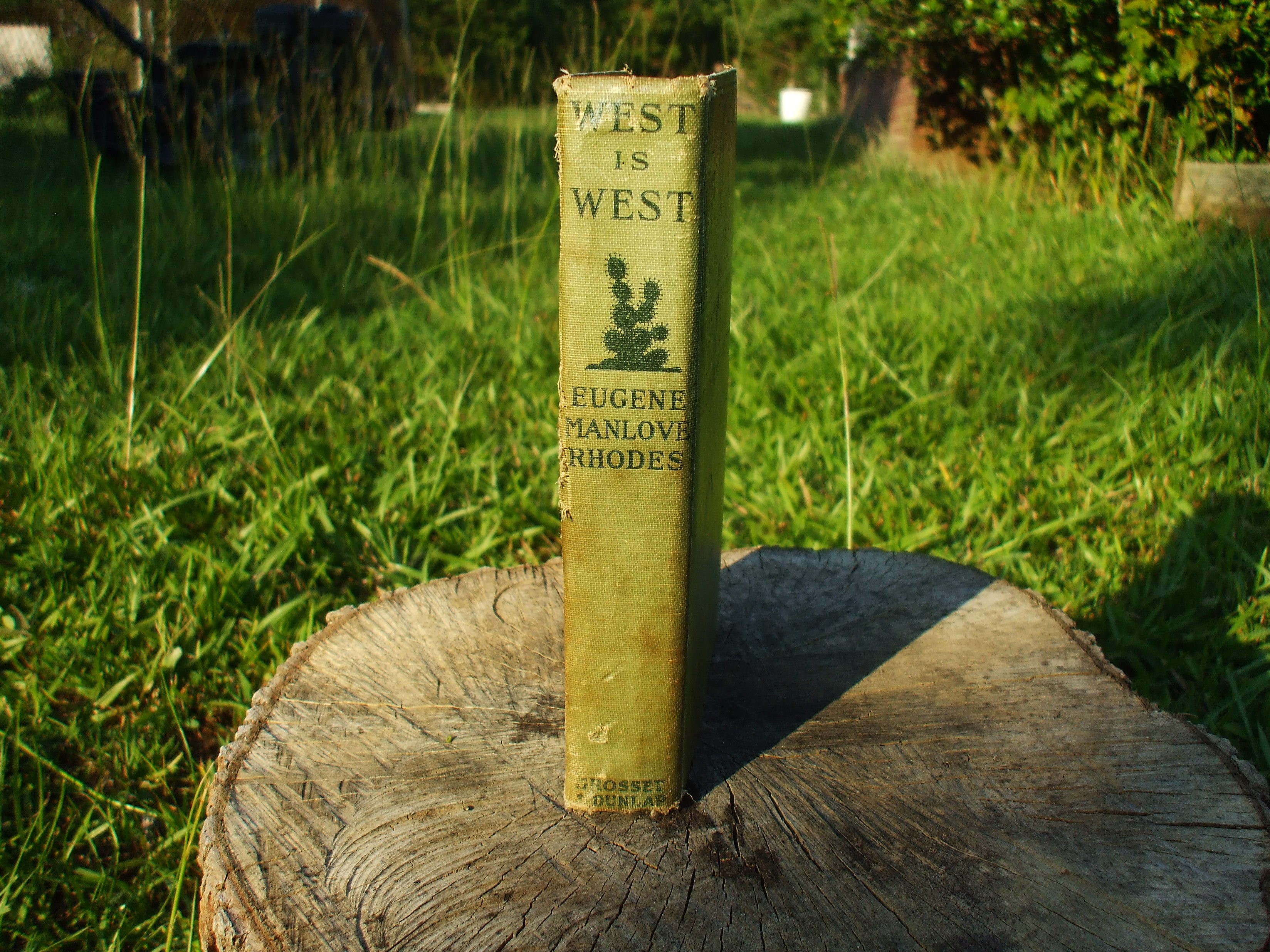 Although West Is West is a fun book, the stories and characters are slightly hard to keep up with, which can make it difficult to read.
It is not an exceptional book in that sense, but for any Gene Rhodes fan (like myself) it is a treasure and well worth adding to your collection. It has one black and white illustration by Harvey Dunn, which is is poorly done, and it does not match the story, as the girl in it not only looks terrible, but also doesn't even have the slightest resemblance to a western girl or any of the characters in the story. She would look more at home in ancient Greece or Rome. The cowboy in the illustration looks alright, but in general it is poor art. There is a lovely little cactus silhouette on the spine!

Below are a few excerpts of dialogue from the book to whet your appetite and give you a taste of his writing style:
On a cowboy's work ethic…
"That is exactly the point. These fellows [cowboys] sacrifice everything else so that they can go their own way just as they please and keep their so-called 'independence'–with no provision for the future. They will not accept orders—."

"I have been here two months and I have not heard an order given yet," said John Sayles dryly. "Every man knows what to do and when to do it. He does it without orders. And every man-jack of them tries to do it first! Is that a fault? Why, if you had men who would do that, you would hold them invaluable. And Independence? Since when has that been a crime? Isn't self-respect — even exaggerated self-respect — better than the cringing obsequiousness of our tip-takers?
On keeping the law…
"You'll get yourself in trouble, Steve," warned the inspector. You don't want to defy the law. A good citizen ought to uphold it."

"Don," said Steve, more seriously, "a man that keeps a foolish law is only a fool—but a man who doesn't break a wicked law is a knave and coward, or both, and a fool besides."
A humorous meeting of a girl and a cowboy meeting out in the middle of nowhere…
"And you've had an accident ? Not hurt I hope?" he held out the canteen, first unscrewing the top.

"Thank you. No, I'm not hurt a bit. Except my feelings. They're ruined. If you'll excuse me, I'll drink first and tell you afterward. Dear me, what a jerky conversation!"

That's because I'm afraid– my part of it," said Dick gravely. "Not of you, you know. Of girls." He waved a hand to explain. "Any girls. All girls. I suppose you're afraid of men. Girls are."

"Not!" supplemented the girl, and wrinkled her nose at him. Then: "Oh, my soul!" she sighed. "What would poor, dear mamma say if she knew I'd make a face at a perfect stranger?"

"Me, too," echoed Dick, mournfully sympathetic. "I've never behaved this way before. I don't know what is getting to be the matter with me—unless, as Topsy said, it's my wicked heart. But my perfection was not shocked when you made the face. It was very effective. Not the nose so much– the dimples."

"Upon my word!" said the young lady.

"Why don't you drink? You must be thirsty/"

"Look the other way, then. I haven't learned to drink from a canteen yet—not gracefully."

Dick looked the other way. "Why, drinking from a canteen is easy," he said. "The first rule is, you mustn't laugh–."

The girl laughed promptly, with disastrous results. There was a sound of spluttering and gurgling and of splashing water. "There! See what you've done! You made me choke myself—you made me spill it!"

"I didn't want to do it." observed Dick, with a decidedly musical effect.

The young lady shot a suspicious glance at him, and frowned slightly; but the young man's eyes were fixed on a distant hill with a gaze so innocent, so guileless, and so unswerving straightforward that she broke out into dimples again.

"That wasn't a song, however it sounded," she remarked. "Now you keep still till I drink."

(for the 21st century folks who don't know, the last couple of sentences are making reference to the 1913 hit song by Al Jolson "You Made Me Love You" that was wildly popular at the time)
Gene Rhodes had an excellent way of capturing his way of life on the range for us all with such realistic characters and dialogue that can never be equaled for authenticity by most other western writers. He also had a strong code of honor and firmly held principles that always show up in his stories—sometimes obviously in the print, and at other times hidden under the surface and not directly visible. He was not a man to change those deeply held principles for a story, as was evidenced when he turned down a handsome offer as a scriptwriter in Hollywood because he wouldn't write a scene the Script Department insisted upon.¹ 
His love for the land and culture of the south-west, and the personality of the people permeates his writing. If any man had a first hand knowledge of the territory and land, it was Gene Rhodes. When he writes about the land out west, it is as if you were writing about your own backyard. He knew every mountain, every waterhole, every hidden valley, every town . . .and by reading his works you can feel in his descriptions that he has touched the mesa, tasted the dust, and been down the adobe streets of the town and knows them with the same familiarity that you have for your house and garage.
The realistic-ness of Rhodes books are unequaled in western fiction to my knowledge, and a real store of wealth to be treasured and savored.
---
¹ Cleavland, Agnes Morley, No Life For A Lady University Of Nebraska Press ©1977