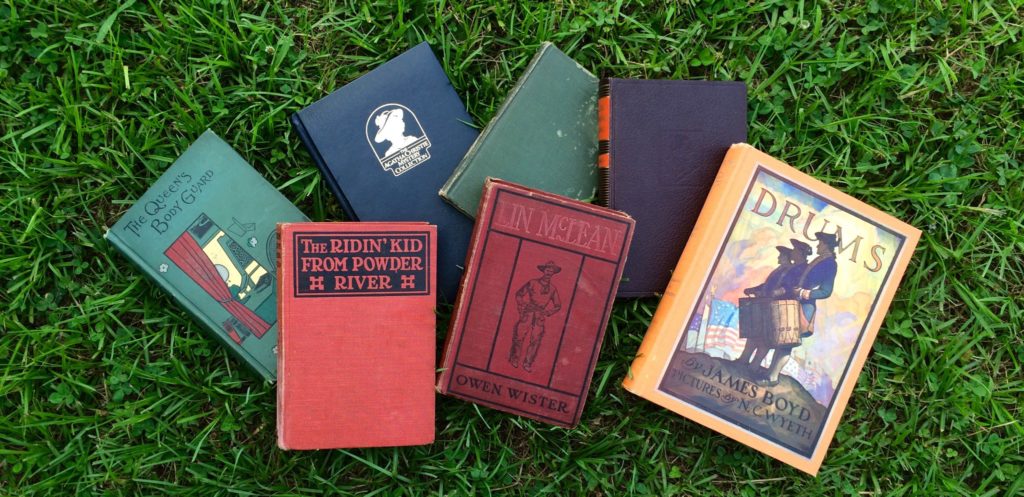 My reading list is never confined to the seasons. Just the same, it is tremendous fun to select a few titles from the stacks of unread books and purpose to read them over the summer.  Of course, I often read quite a few books that you'll never seen a trace of on my list…sometimes one comes to my attention and slips ahead of the books that have been patiently waiting their turn in orderly lines across my dresser. 🙂

This list is about half of the books I intend to read this summer—the vintage half. The modern books, which tend to be non-fiction, don't make it on this list. 🙂 I wouldn't be at all surprised if a few Louis L'Amour, P.G. Wodehouse, or Mary Stewart titles creep onto this stack between now and the 21st… But without further ado, here is my vintage summer reading as far as currently planned:

Drums by James Boyd. First published in 1925. This is one of those classic adventure tales that I never had a chance to read yet. Also 'tis one of the books that inspired David McCullough, one of my favorite biographers, to become a historian. My edition is from 1958 and is illustrated by the great N.C. Wyeth.
Five Little Pigs by Agatha Christie. First published in 1941. A good old-fashioned mystery that should be loads of fun.
The Ridin' Kid From Powder River by Henry Herbert Knibbs. First published in 1919.
Bull-Dog Drummond Returns by H.C. McNeile. First published in 1931. Bulldog Drummond is one of my favorite characters in the film world (as played by John Howard), and the books by McNeile are rapidly moving thrillers of the old-fashioned type. I can't say positively just how grand this one is–until I read it, but I have my suspicions. 🙂
The Queen's Bodyguard by Margaret Vandegrift. First published in 1883. This is an extremely RARE book to find an original copy of, and the oldest book in this stack! I was planning to put it in my shop last month, but in reading bits of pages it looked so interesting that I couldn't stand to part with it before reading it myself. I hope it lives up to it's promising appearance!
Lin McLean by Owen Wister. First published in 1898. Lin McLean is one of the characters in the famous "The Virginian" novel that flew through the book shops, carried iconic lines that Americans still quote today, inspired a popular western TV show, and had 6 films based off it from 1914 to 2014. It's the only book I know of that has been made into movies for over 100 years. Anyway, long before it's popularity, Owen Wister wrote Lin McLean, another western with many of the same characters, including the Virginian himself. I've been intending to read this, and am looking forward to seeing the humble origins of the famous characters that have affected our culture since the 1800's.
The Wealth of Nation by Adam Smith. First published in 1776. Unfortunately, my copy is not that old! A classic work on economics that I have been eagerly trying to read for years. It's going to happen this summer if at all possible!


What are you reading this summer? Any vintage books?