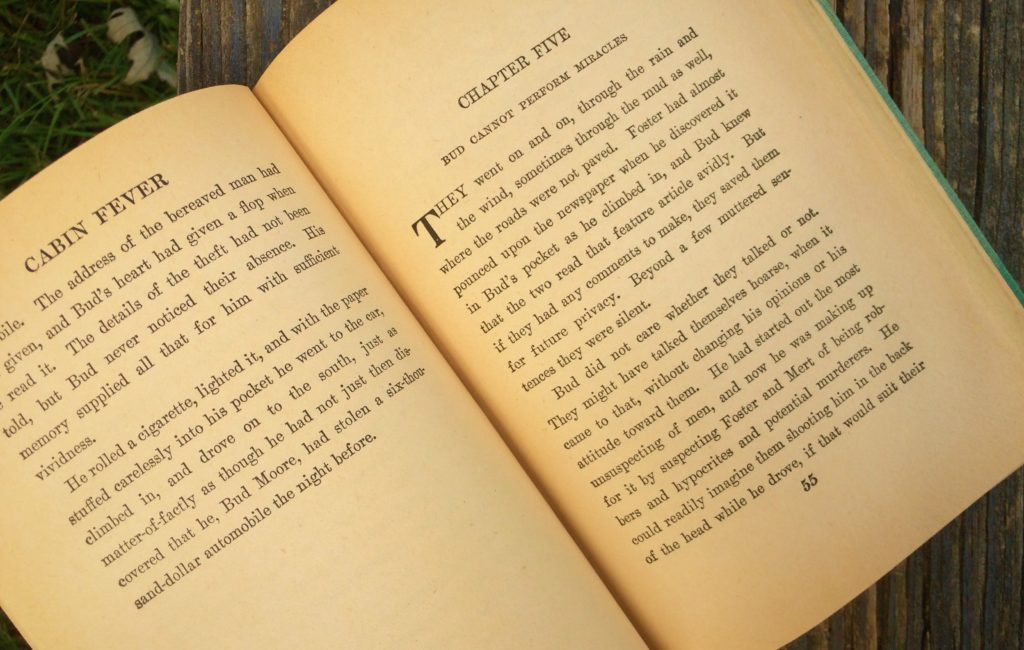 Cabin Fever
By B. M. Bower
Cabin fever is one of those diseases that plague folks all over the world, and Bud Moore is no exception. An ex-cowboy turned stage-driver (of an auto stage!), he has been married just over a year, and lives in a nice, sturdy house with his wife and baby. Now, the bad news is that Bud is not the only one in the house to have "cabin fever," his bride Marie has a severe case and is even closer to committing a desperate act than he is…
This book is a "light-reading" type of story that follows the wanderings of Bud as his marriage breaks apart and he is thrust out in the world with only a ten-spot to his once-prosperous name. Taking a job working for another man, he innocently ends up deep in the midst of a crime…and wanted by law officers in several western states.
The characters in this book have been developed more fully than many in Bower's western adventures. It is a stand alone story, and has no connection to her more famous series. It is simple in plot, yet original enough to be interesting. Her writing style is simple as well, but she usually has a point that she makes with the story—in this one it has to do with the issues of compassion, understanding, the utter silliness of pride and it's damaging repercussions, and the theory that "change is as good as rest" (as a side note; Winston Churchill wrote an excellent little book on that subject titled "Painting as a Pastime").
The book starts with these ominous and intriguing words:
There is a certain malady of the mind induced by too much of one thing. Just as the body fed too long upon meat becomes a prey to that horrid disease called scurvy, so the mind fed too long upon monotony succumbs to the insidious mental ailment which the West calls "cabin fever."

True it parades under different names, according to circumstances and caste. You may be afflicted in a palace and call it ennui, and it may drive you to commit peccadillos and indiscretions of various sorts. You may be attacked in a middle-class apartment house, and call it various names, and it may drive you to cafe life and affinities and alimony. You may have it wherever you are shunted into a backwater of life, and lose the sense of being borne along in the full current of progress. Be sure that it will make you abnormally sensitive to little things; irritable where once you were amiable; glum where once you went whistling about your work and your play.

It is the crystallizer of character, the acid test of friendship, the final seal set upon enmity. It will betray your little weaknesses, cut and polish your undiscovered virtues, reveal you in all your glory or your vileness to your companions in exile—if so be you have any.

If you would test the soul of a friend, take him into the wilderness and rub elbows with him for five months! One of three things will surely happen: You will hate each other afterward with that enlightened hatred which is seasoned with contempt; you will emerge with the contempt tinged with a pitying toleration, or you will be close, unquestioning friends to the last six feet of earth– and beyond.

All these things will cabin fever do, and more. It has committed murder, many's the time. It has driven men crazy. It has warped and distorted character out of all semblance to it's former self. It has sweetened love and killed love. There is an antidote– but I am going to let you find the antidote somewhere in the story.
Her antidote is is comprised of several things, which I will also leave you to discover in the story. 🙂 The resolution of all the problems wasn't quite satisfactory to me.
Least you get the idea that Bower turned from her traditional western novels and started in on moralizing, preaching, and making profound social observations, let me put your mind at rest. "Cabin Fever" is just like her other books: full of dialogue, a fun story, humorous moments, and a little action (though not as much in this one as her other novels). This tale has quite a surprising twist at the end! I thought I could pretty well predict the way the story would end, but I didn't anticipate how the plot would spin at the last minute!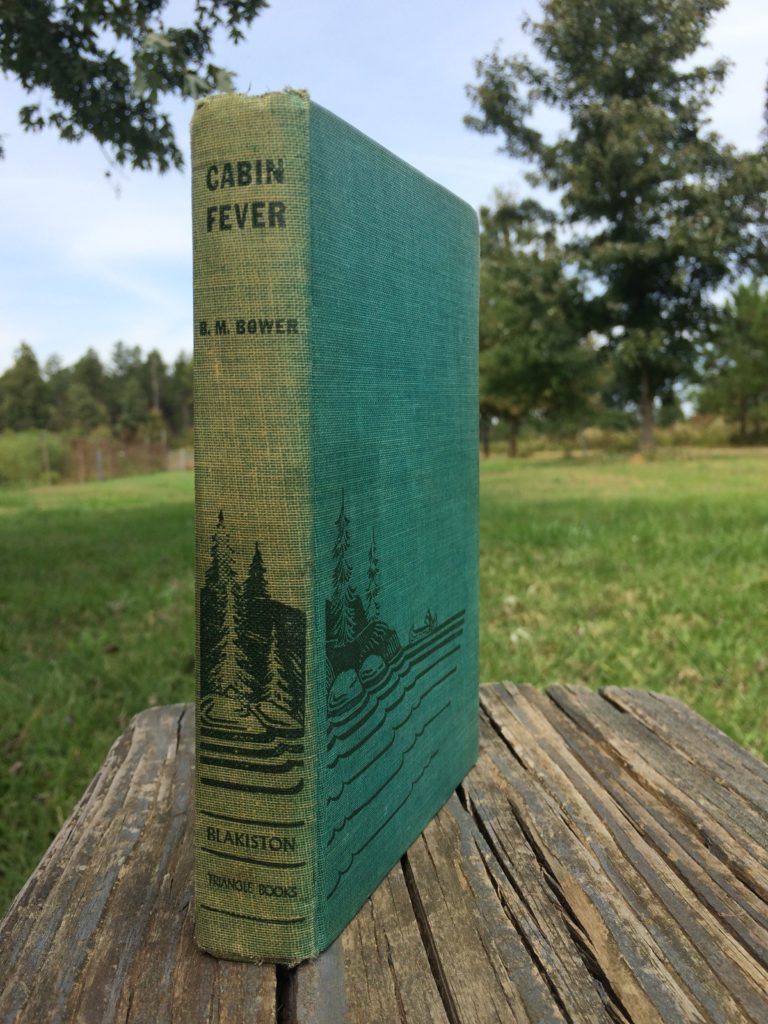 "Cabin Fever" details:
Originally published in 1918
Written by B. M. Bower
The book in these photos: published in June 1945 by Triangle Books
291 Pages in length
"We all realize keenly, one time or another, the abject poverty of language. To attempt putting some emotions into words is like trying to play Ave Maria on a toy piano. There are heights and depths utterly beyond the limitation of instrument and speech alike."~Cabin Fever