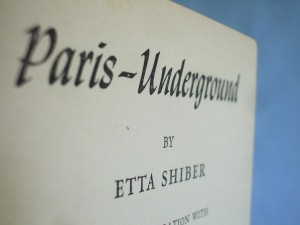 The scene: Paris, France~ June 1940. Two women–Etta, an American, and Kitty, an Englishwoman, are fleeing Paris as the German army invades France. Unable to get out of the city, they are forced to return and live under Nazi rule. There is only one problem: they have an English pilot in the luggage compartment of their car. Hiding him in their apartment is dangerous enough, but when other English soldiers start to use their apartment as a station on their escape route, normal things become deadly risks. Especially when a German soldier takes a shine to Kitty, and at unexpected times shows up at their apartment!
This book is written by Etta Shiber, and was first published in 1943, after she was exchanged for a German prisoner that the Americans held captive.
A tense, gripping story. It reads like a novel, but was all too true. An amazing portrait of Paris and first had account of what life was like in France under the Nazi regime. It is also a story of great personal courage and noble, selfless living.
A favorite quote of mine from the book is when an English pilot who is in hostile territory and surrounded on all sides by his mortal enemies who want to slaughter him, finds the kindness of a friend:
He sighed. "You're both wonderful," he said "I guess the world hasn't gone to the dogs after all. No matter where you go or what happens, you always find nice people everywhere."~Lt. Burke